While other retailers focus on cities, the thriving discount chain is building thousands of stores aimed at lower-income shoppers in small towns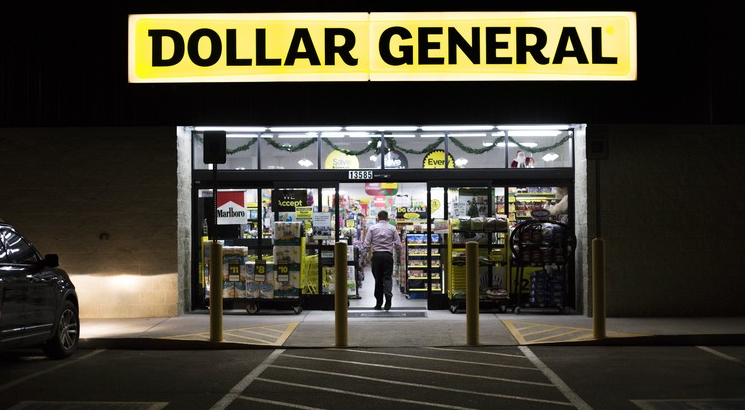 EVENSVILLE, Tenn.—The local Dollar General store, built on a rural highway and surrounded by farmland, sells no fresh meat, greens or fruit. Yet the 7,400-square-foot steel-sided store has most of what Eddie Watson needs.
The selection echoes a suburban drugstore chain, from shower curtains to breakfast cereal, toilet paper, plastic toys and camouflage-pattern socks. Refrigerators and freezers on one wall hold milk, eggs and frozen pizza.
Many items are sold in mini bottles or small bags, keeping costs lower than a trip to the Wal-Mart Supercenter down the road. The two registers are staffed by one cashier, except during rush hours after school and after work.
"It's just closer," said Mr. Watson, a 53-year-old construction worker who filled his cart with cans of chicken soup, crackers, cold cuts and toilet paper. "We call this the Evensville Wal-Mart.' ''
The store, 10 miles from the nearest small town, is one of three locations in Rhea County where Dollar General plans to open stores by next year. More than one in five people there receive government food assistance, higher than the U.S. average, and the county has Tennessee's highest unemployment rate.
Dollar General is expanding because rural America is struggling. With its convenient locations for frugal shoppers, it has become one of the most profitable retailers in the U.S. and a lifeline for lower-income customers bypassed by other major chains.
Dollar General Corp.'s 14,000 stores yielded more than double the profit of Macy's Inc. on less revenue during its most recent fiscal year. And its $22 billion market value eclipses the largest U.S. grocery chain, Kroger Co., which has five times the revenue.
The retailer relies on rapid store growth to keep revenue climbing and investors happy; 2016 marked its 27th consecutive year of sales growth in stores open at least a year.
While many large retailers are closing locations, Dollar General executives said they planned to build thousands more stores, mostly in small communities that have otherwise shown few signs of the U.S. economic recovery.
The more the rural U.S. struggles, company officials said, the more places Dollar General has found to prosper. "The economy is continuing to create more of our core customer," Chief Executive Todd Vasos said in an interview at the company's Goodlettsville, Tenn., headquarters.
"We are putting stores today [in areas] that perhaps five years ago were just on the cusp of probably not being our demographic," he said, "and it has now turned to being our demographic."
Dollar General's target shoppers come from households earning $40,000 or less. Its primary competitor, Dollar Tree Inc., has more suburban locations and sells all items for $1, including unbranded knickknacks that attract shoppers browsing for fun. In 2015, Dollar Tree bought another competing low-price chain, Family Dollar Stores Inc. which has more urban locations.
This lower-end market is better protected from Amazon and competitors that target wealthier shoppers, company executives and analysts said.
Dollar General's typical shopper "doesn't look at her pantry or her refrigerator and say, 'You know, I'm going to be out of ketchup in the next few days. I'm going to order a few bottles,'" said Mr. Vasos, the company's chief executive. "The core customer uses the last bit of ketchup at the table the night prior, and either on her way to work or on her way home picks up one bottle."
Camouflage is a proven winner. This year, Dollar General became the exclusive seller of dog food from the camouflage-gear brand Mossy Oak. "Even off-brand camo does well here," said the Evensville store manager Justin Ray, who has a display of camouflage merchandise, including pacifiers and pet toys.
Coca-Cola Co. created a line of soda cans for the chain this spring that carry such labels as "Service Member" and "Military Spouse" because many Dollar General shoppers have a personal link to the armed forces. Stores started selling cigarettes in 2012, a few years before CVS Health Corp. and Costco Wholesale Corp. moved to phase out tobacco sales.
For decades, Dollar General prices have been marked in 5-cent increments, making it easier for shoppers to estimate the total price of their purchases. "They don't want to be embarrassed when they get up to the register," said Mr. Vasos, who started working in retail as an assistant manager at Eckerd Drug and rose to executive before joining Dollar General in 2008.
Many popular brands are packaged in small quantities to keep prices under $10—generally yielding higher profits per item than bulk goods at such warehouse chains as Costco, which sells half-gallon bottles of cooking oil and 7-pound packages of fresh chicken.
Lower-priced items are often a financial necessity for shoppers. At a Dollar General in Nashville, Tenn., store manager Damon Ridley said, he has helped older children put together a dinner menu for their younger siblings with the few dollars they have. "I am more of an outreach manager," he said.
Rural roots
The founders of Dollar General lived in small-town Kentucky and started the company there in 1955, making the store's rural locations a natural fit. When Wal-Mart Stores Inc. grew past 3,000 stores in the early 2000s, a strategy surfaced: "We went where they ain't," said David Perdue, Dollar General's chief executive from 2003 to 2007.
That meant opening stores "where Wal-Mart's 40 miles away and we can meet those people's needs," said Mr. Perdue, now Georgia's junior senator.
Dollar General doesn't own most of its stores. It mostly leases steel-sided stores built to its own bare-bones specifications, said Dan Nieser, senior vice president of real estate and store development. The average Dollar General store costs $250,000 to open, compared with several million dollars for the average grocery or big-box store, company executives said.
When Dollar General began adding refrigerated sections to sell frozen and chilled foods, its real-estate team pinched pennies elsewhere. "My team is quite innovative," Mr. Nieser said.
Dollar-store chains flourished in the wake of the recession. Wal-Mart opened more than 100 mostly rural Wal-Mart Express stores, a chain the company has since closed, selling dozens of the stores to Dollar General last year.
Dollar General executives said in 2012 the chain would shift more attention to cities, attempting to assuage investors who worried the company's growth could stall. "As we look further and further out where our growth opportunities are, we're going to be in more urban environments versus rural," then-CEO Rick Dreiling said at an investor meeting that year.
Instead, demand by rural shoppers kept Dollar General's focus on sparsely populated communities. In 2013, Dollar General refined its formula for new locations, incorporating such data as proximity to a post office or church. The company identified 14,000 spots, with "the highest improvement in opportunities in small town and rural markets," Mr. Dreiling told analysts in 2014.
After the company lost a 2015 battle to buy Family Dollar—the more urban chain—Dollar General decided to speed up its rural expansion.
The company has since opened hundreds of diminutive stores, about the size of a basketball court, that can generate profits in communities with fewer than 1,000 homes, Mr. Vasos said.
Dollar General still dreams of one day conquering metropolitan areas. This year, the company bought 322 stores from a private-equity firm that had bought them from Dollar Tree as it sought antitrust approval for the Family Dollar purchase. The acquisition included stores in Brooklyn, N.Y., Chicago and other cities, locations that will be a useful testing ground, he said.
The percentage of Dollar General stores in and around cities has fallen slightly over the last two years to under 30%, a spokeswoman said.
Lost jobs
Dollar General opened its first store in Rhea County near Tennessee's eastern border in 1965. It was the company's 48th store. It opened a second one in the county in 1980 and another in 1998. The county is famous for being the setting for the 1925 Scopes Monkey Trial, where a teacher was prosecuted for teaching evolution.
Last year, a subsidiary of Fujifilm Holdings Corp. , which made photo-developing chemicals, and an air-conditioner maker owned by Daikin Industries Ltd. closed plants, shedding about 700 jobs. The plant closures pushed the county's unemployment rate to 10.2% in January. By October, it had fallen to 5.4%, still the highest in the state
Finnish tire company Nokian Tyres broke ground on a local factory this fall. A hotel has opened, as have some new restaurants, "but the only retailer expanding is Dollar General," said Dennis Tumlin, executive director of the Rhea County economic and community development group.
After opening the Evensville store last year, Dollar General added another in nearby Graysville. Across the street, the ramshackle Graysville Market & Deli advertises the "Cheapest Beer and Cigarettes in Town!"
Both Dollar General locations, as well as a third scheduled to open next year, are located on roads leading to the county seat of Dayton, population 7,250, which has a Wal-Mart, grocery stores and a Dollar Tree.
Mr. Ray, the Evensville store manager, said most shoppers stop by a few times a week for a handful of items they need that day. Best sellers include canned Vienna sausages and frozen pizza. Mr. Ray, who grew up about 10 miles away, said Gain detergent sells better than Tide because shoppers gravitate to more heavily scented cleaning products.
Sales at the store are up 17% so far this year compared with last year, a spokeswoman said.
On a recent weekday, Jackie Buchanan pulled up to the store astride a forest-green Craftsman riding mower, to buy shampoo and lawnmower-carburetor cleaner. "I'm just one mile down the road," said Mr. Buchanan, 51, who is unemployed.
Robin Swift, 48, arrived to buy after-school snacks rather than drive 10 miles to the Wal-Mart. "It's a small town," she said, "and we don't have another choice."
One Nation, Divisible | How Dollar General Became Rural America's Store of Choice
By: Sarah Nassauer, Wall Street Journal
TREK Investment Group
11610 Bee Caves Road, Suite 230
Austin, Texas 78738
Ph: 512-433-6999